Imagine you walk into an enquiry stall and end up playing interesting games and winning some wonderful prizes?
That is what exactly happened at the CF Patna stall set up in Patna Women's College during its two day fete-cum-workshop on 'Digital marketing', organized by the advertising and marketing department of PWC.
It was two action packed days full of fun and enthusiasm which the CF Patna team witnessed at its stall at PWC. Marked as stall number 58, the CF Patna stall with its team of faculty and volunteers not only provided in depth knowledge on MBA as a career, but also announced some very interesting games.
As soon as the online game based on analytical thinking and general IQ was announced, the stall turned into a beehive surrounded by students. Some played to check their intelligence, while others played to win gifts.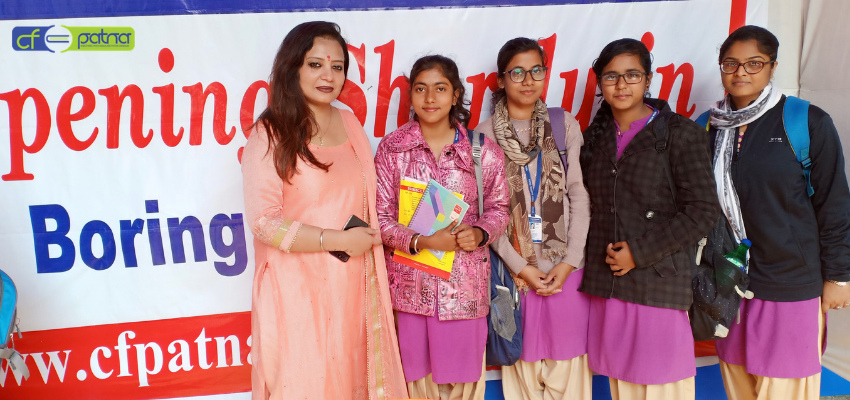 And one game was not just enough. Every girl coming to play the first game also tried her luck with the other two games which included a slogan writing contest and a speed test. And guess what? There were prizes for all, even for those who just tried.
"It's the effort which matters," said Amit Sen, Director, CF Patna. "It's the will to come forward and try which acts as the first step in confidence building. And we should always encourage the youngsters to do so, after all, they are our future" said Amit.
By Day 2, more than half of the girls knew that there were interesting activities happening at CF Patna stall. But what they didn't know was that day 2 activities were more fun. While everybody continued playing the online game, there was a whole bunch of girls crowding at the stall to play the game of pronunciation and tongue twisters. While some read out the tongue twisters like experts there were others who stammered and stumbled. But the net outcome was pure fun!
"Our games aimed at challenging the students to learn new things and better themselves. After all at CF Patna too, we promote the same." added Amit.
By afternoon the sun was blazing hot but that did not dampen the spirits of either the hosts or the guests coming to play the games at CF Patna stall.
Special thanks and kudos to Mansi, Siddharth, Divyansh, Prashant, Rajnandini, Priyadarshini, Manisha and Aniket for managing the stall with full energy and enthusiasm.